Fostering Community and Celebrating Our Random Acts of Kindness Campaign
Posted by Lynn Garafola on Wednesday, March 9, 2022 at 4:51 PM
By Lynn Garafola / March 9, 2022
Comment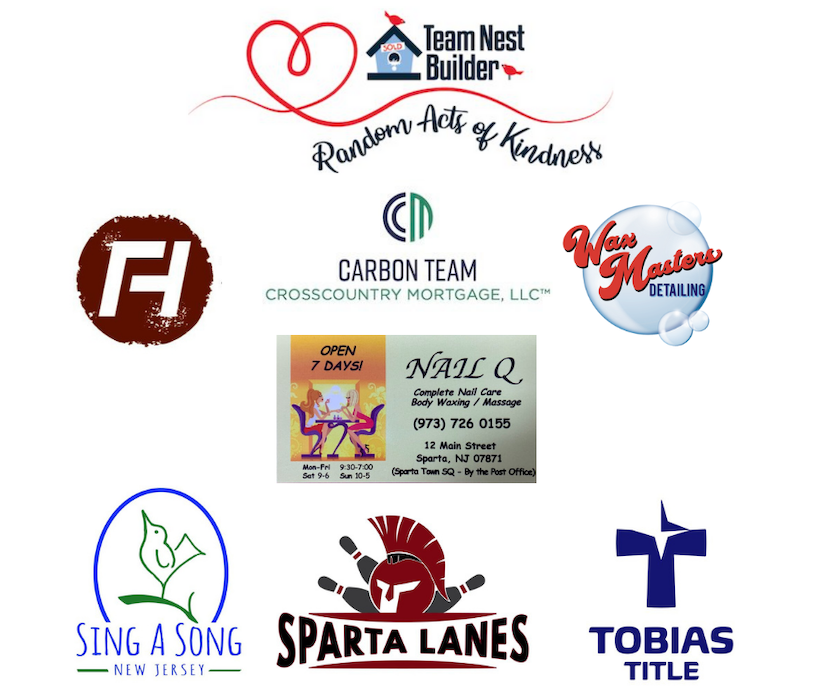 Kindness is defined by the quality of being friendly, generous, and considerate. Recently Team Nest Builder located in Sparta ran a Random Acts of Kindness campaign highlighting the thoughtfulness occurring within our community. People were nominated by friends, family, or acquaintances to highlight their actions while others were nominated because someone in their life recognized their need for kindness. All of the nominations were compelling and the winners have been selected.
Team Nest Builder would like to congratulate all of the winners, thank the nominators, acknowledge the support we received from our amazing sponsors, and highlight a few of the stories that were submitted.
Annie A. from Sparta was nominated by her daughter who wrote about Annie's involvement in several community groups, many community events and fundraisers, and ways she supports everyone she comes in contact with. Her community service is remarkable all while working, being a devoted wife, and dedicated mother of four. "She is constantly putting others before herself and making sure everyone around her is happy and laughing. She is the best role model to me and my siblings and an amazing friend to anyone she comes in contact with." Annie was awarded a gift certificate to an area restaurant sponsored by Al Rapport with Cross Country Mortgage.
Emilie D. from Vernon was nominated by a friend who described her as always willing to help another in need. Volunteering at many community organizations and her church Emilie is completely selfless. From teaching to food collections to helping neighbors she is always there. "Emilie lives her life practicing random acts of kindness." Emilie was the winner of a gift certificate to a local restaurant courtesy of Al Rapport of Cross Country Mortgage.
Kathy R. from Sparta was nominated by a member of the community who describes her as a fierce super woman volunteering for what seems like everything in the community." Her selfless acts and volunteerism motivate me to be a better person. I truly feel privileged to know her." Kathy was the recipient of a mixology whiskey set and gift card to a local liquor store donated by Tobias Title. Tobias Title also donated a $100 gas gift card to another lucky recipient.
Benny's Bodega and its volunteers were nominated by a member of the community recognizing how much this organization and its supporters have impacted the lives of so many. They operate with no paid staff and staying true to their motto of, "People Helping People". The volunteers give so much time, effort, and energy that the organization is essentially both a second job and family. "They deserve as much kindness as they put out." "People Helping People, it really is that simple to them, so although simple they too deserve some kindness." Benny's Bodega was awarded a gift certificate to an area restaurant for a volunteer appreciation breakfast for the entire group donated by Al Rapport with Cross Country Mortgage.
Many thanks to our campaign sponsors:
Al Rapport with Cross Country Mortgage was extremely generous with 4 donations to local restaurants.
Wax Masters Detailing Service of Sparta contributed a Silver Package for a complete auto detailing service awarded to a veteran who continues to give back to the VFW and community.
Sing-A-Song, Sparta assisted in the campaign with a children's class package which was presented to a young mother with a lot on her plate.
Fitness Haven in Newton was considerate with a bag full of goodies and fitness package given to a young front line worker who goes the extra mile for her elderly patients.
Sparta Lanes and Pour House's kindness resulted in a family evening out.
Nail Q supplied a gift card for a luxurious spa pedicure and selfcare.
Tobias Title donated gift cards to local businesses and gratuitous gifts.
With the help of the sponsors and their partnership and support Team Nest Builder was able to award 10 individuals and 1 group organization spreading kindness throughout Sussex County.
For more stories, events, or information visit our website at www.teamnestbuilder.com/blog or follow us on social media @teamnestbuilder.
"Giving connects two people. The giver and the receiver, and this connection gives birth to a new sense of belonging." Deepak Chopra